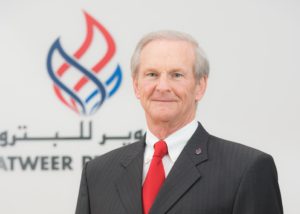 Mr. James Kenneth Eastlack
Chief Executive Officer
2016 was another year of achievements for Tatweer Petroleum. Despite the difficult market conditions, we continued to complete many significant projects as well as reduce our operating costs to levels that are now top quartile performance worldwide.
Our average annual Crude and condensate production averaged 48,500 bpd, down from 2015 production of 50,600 bpd. The black oil rate reached a high of 48,600 bpd in January 2016, and averaged 44,400 bpd for the year.
Tatweer continued to expand its strategic projects throughout the year. A major highlight was the inauguration of the 1 Mega Watt Solar Power Plant, which is able to supply almost 2% of Tatweer's present power consumption. The solar energy panels connect to Tatweer's power grid to deliver enough power for the autonomy of its headquarters building. During weekends, and times of low use of the headquarters, the excess power is fed back into the Tatweer power grid for use elsewhere in oil field operations.
Other facilities inaugurated in 2016 included the High Volume Lift Electric Submersible Pump System and the Aruma Extra Heavy Oil Pilot, which will have the potential to produce a major part of Bahrain's future oil production.
On Health, Safety and Environment, Tatweer and its contractors worked over 7.2 million man hours and achieved a combined Injury and Illness Rate of 0.19. The Company was able to achieve zero Injury and Illness Rate (IIR) for Tatweer staff for the first time since it's inception in 2009. This achievement is a testament to Tatweer's continued commitment to perpetually improving HSE.
I would like to take this opportunity to sincerely thank H.E. Sh. Mohamed bin Khalifa Al Khalifa for his continued guidance and support. In addition, I would also like to convey my thanks and appreciation to the management team and all of Tatweer Petroleum's employees for their commitment and sheer hard work throughout 2016, despite the very challenging low oil price environment, to better our organization and maintain our standing as one of the most admired companies in the Kingdom of Bahrain.