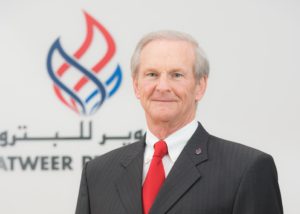 Mr. James Kenneth Eastlack
Chief Executive Officer
2015 was another outstanding year of achievements for Tatweer Petroleum. Despite the difficult market conditions, we continued to set new records, complete many significant projects as well as reduce our operating costs to levels that are now top quartile performance worldwide.
Our average annual Crude and Condensate production increased from 48,800 bpd in 2014 to 50,600 bpd in 2015. Tatweer achieved its highest black oil and condensate production record ever in June with over 56,000 bpd, which has not been seen in the Kingdom of Bahrain since 1978.  We also managed to use steam injection to produce the first ever oil out of the extra-heavy oil reservoir (Aruma) which is an excellent and remarkable historic achievement.
Tatweer continued to expand its strategic projects throughout the year. A major highlight was the inauguration of the Central Control Facility (CCF), a project which is pivotal to Tatweer's implementation of its digital oil field and which now collects data from 70,000 inputs every few seconds. The state-of-the-art facility incorporates a dedicated emergency management command center as well bringing together several other control facilities into one location for improved efficiency and safety.  The CCF is now the real heart of our operations and provides a more necessary focus on the surveillance of our day to day operations for increasing our production uptime as well as providing critical real-time data that allows our subsurface engineers and geo science to better understand the reservoirs and optimize development plans.
Other facilities inaugurated in 2015 included the new associated gas compression stations, the new staff canteen at Tatweer's headquarters and the new pump workshop – which is a fully equipped facility that allows for maintaining our own Beam Pump Units in house thus providing savings in both cost and time.
On Health, Safety and Environment, Tatweer and its contractors worked over 7.7 million man hours and achieved the lowest combined Injury and Illness Rate of 0.16 in the company's six year history of operation. This achievement is a testament to Tatweer's continued commitment to perpetually improving HSE.  Since Tatweer's operations commenced in 2009 its HSE performance now ranks among the highest levels by the international standards it has implemented.
I would like to take this opportunity to sincerely thank H.E. Dr. Abdul Hussain bin Ali Mirza, as well as our shareholders, for their continued guidance and support. In addition, I would also like to convey my thanks and appreciation to the management team and all of Tatweer Petroleum's employees for their commitment and sheer hard work throughout 2015, despite the very challenging low oil price environment, to better our organization and maintain our standing as one of the most admired companies in the Kingdom of Bahrain.