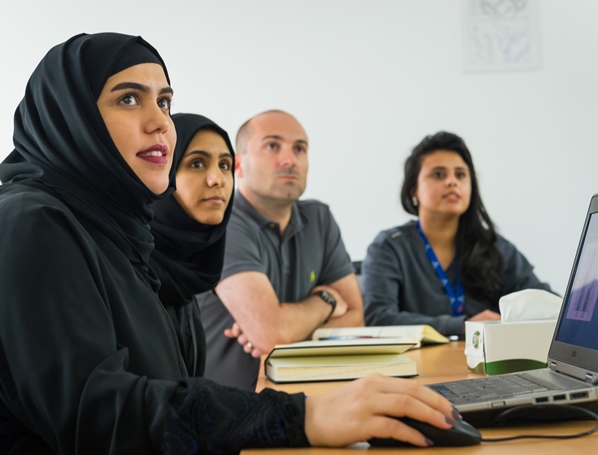 Tatweer Petroleum's nationalization rate rose from 80% to just over 83% in calendar year 2018, as the Company's total headcount increased from 733 to 837 for a net gain of 78 year on year. Tatweer Petroleum made employment offers to 152 remaining Bapco secondees in December 2018 and, while some elected to retire early, 144 (94.7%) accepted these offers and began Tatweer Petroleum direct hire employment on 1 January 2019. The Company's total headcount decreased from 837 to 815 whilst increasing nationalization to 83.4%.
Tatweer Petroleum also commenced a voluntary Savings Plan for national staff in July 2018 in order to remain competitive in the industry.
Key Facts
Of total workforce are Bahraini Nationals
A total of 14 Bahraini nationals were promoted to leadership or higher level leadership positions (department Section Head or above) in 2018. Leadership training will continue in 2019 to develop and better prepare Bahraini employees for future higher-level roles.
In 2018, Tatweer Petroleum delivered approximately 80,000 man-hours of training and development to its employees in the form of developmental assignments and technical, business and HSE training. In addition to this, Tatweer Petroleum's annual summer internship program provided two months' work experience for 29 Bahraini students attending local and international universities. Tatweer Petroleum also hosted 11 students from Shaikh Nasser Vocational Technical Center for 6 weeks and another 5 students from various local high schools in cooperation with the Supreme Council for Women for 2 weeks for experiential learning programs.
Tatweer Petroleum continued the Individual Development Plan (IDP) Program, first implemented in 2016, as part of its commitment to train and develop Bahraini employees in their respective fields of responsibility. With the IDP program, Tatweer Petroleum has been able to put in place personalized development plans for all eligible Bahraini employees. These plans are renewed annually and progress relative to these plans is tracked throughout the year for each Bahraini employee to achieve agreed technical and other competency targets.