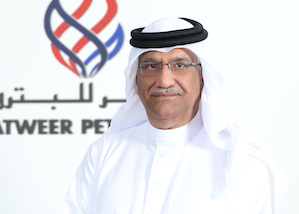 Mr. Ghassan Almuhanna
Acting Managing Director
Mr. Almuhanna spearheaded the nations' most important exploratory activities in role as General Manager Exploration and Development at Tatweer Petroleum, following the secondment of his division in June 2017, and subsequently including two of Tatweer's core departments, Subsurface and Drilling, under the umbrella of his division. He has 35 years of experience in the petroleum industry and held various executive roles in BAPCO including leadership roles such as General Manager Human Resources and Administration (HR & A) and divisional management of GM Exploration & Petroleum Engineering. He headed activities relating to the Development and Production Sharing Agreement (DPSA) monitoring, as well as Offshore Exploration programs, in addition to establishing the Oil Field Services Sector. He has also led onshore exploratory drilling off the main island and the Bahrain Deep Gas well (BD1).
Mr. Almuhanna's professional associations include SPE Middle East Drilling Advisory Council, Chairman for the 2010 Middle East Drilling Technology Conference & Exhibition, membership in International Association of Drilling Contractors (IADC), and more. He graduated with a B.S. degree in Petroleum Engineering from the University of Petroleum and Minerals (currently known as KFUPM – King Fahad University of Petroleum and Minerals).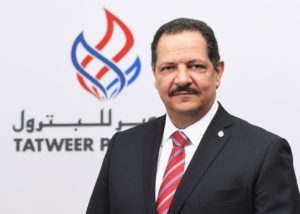 Mr. Yahya Alansari
General Manager – Exploration and Development
Yahya Alansari graduated from University of Qatar with a degree in Petroleum Geology. He has over 25 years experience in the oil and gas industry working on a variety of plays and projects including exploration and development, onshore and offshore, structural and stratigraphic, conventional and unconventional along with CO2 and thermal EOR projects.
He started his career at the Bahrain National Oil Company (BANOCO) as a geologist and held several leadership and management roles in the national oil company. Yahya gained invaluable experience working on the Bahrain Field and other areas of hydrocarbon interest in the country. He led his team to the discovery of Khalij Al Bahrain Basin in 2017 and is continuing to contribute to the appraisal and development of these resources.
Mr. Alansari was appointed General Manager of Exploration and Development at Tatweer in 2019 and is currently leading the country's most important exploration and production activities.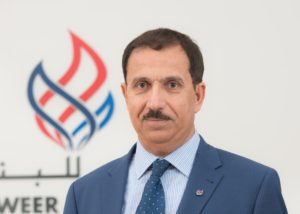 Mr. Abdulla Al Bastaki
General Manager – Field Operations
After graduating from Secondary Technical School, Abdulla AlBastaki pursued higher education at Plymouth Polytechnic in the UK and later at the University of Bahrain, obtaining a Higher National Diploma in Mechanical and Production Engineering and a BSc in Mechanical Engineering. He also holds other management and leadership qualifications.
Abdulla started his career with the Maintenance Department at the Bahrain Ministry of Transportation, and in 1996 he joined Bahrain National Oil Company – BANOCO (later merged with BAPCO), where he progressed in his career through various assignments and positions in Field Maintenance, Operations and Engineering, and participating in various local and regional Oil and Gas Field related committees. Abdulla is known for his commitment to safe and efficient operation of the Bahrain Field.
In 2018, Abdulla was appointed as General Manager Field Operations, leading the Field Operations, Field Maintenance, and Facilities Engineering and Construction Departments.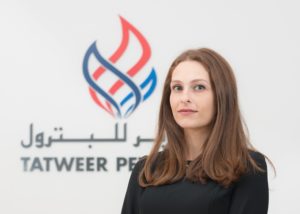 Ms. Reem Al Alawi
General Counsel
Ms. Al Alawi holds a BA Honors Degree in Law and Business Administration and an LLM in International Commercial Law.
She began her career in the Corporate, Legal and Regulatory Affairs Department at the Bahrain Telecommunications Company (Batelco) before moving to the Legal Affairs Unit at the Telecommunications Regulatory Authority (TRA).
Reem joined Tatweer Petroleum in 2012 as Senior Legal Specialist and has held various positions in the Legal Department.
In May 2017 she was appointed as General Counsel.
Mr. Saud AlNoaimi
Manager – Human Resources
Saud AlNoaimi graduated Cum Laude with a Bachelor of Science degree in Business Administration with a concentration in international business from the New York Institute of Technology.
After working as a Human Resources Lead for Schlumberger, Saud joined Tatweer Petroleum as a Human Resources Advisor in June of 2017. He moved to the role of Head of Organizational Effectiveness and then assumed the role of Head of Employee Relations & Services in February of 2019.
In December 2019, Saud was appointed Human Resources Manager.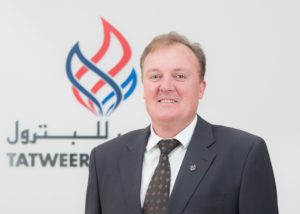 Mr. Kobie Human
Manager – Health, Safety, and Environment
Mr. Human holds a Bachelors Degree of Business Administration, as well as a Diploma of Work Health and Safety and an Advanced Diploma of Work Health and Safety. He has 26 years of experience in Occupational Health, Safety, Environment and Security Management experience in the oil and gas construction and commissioning and downstream industries.
He brings to the Tatweer team an in depth knowledge of health and safety and emergency management in large teams internationally through his experience of working on large mega projects internationally in countries like: Qatar, UAE, Papua New Guinea, Australia and South Africa. His knowledge of working with many major oil and gas producers such as Exxon Mobil, Chevron, Total, RasGas and Qatargas also provides him with a good knowledge of international best practice in the field of HSE Management, which will enhance our Tatweer Safety culture.
Kobie's strength is in strategic planning, HSE systems development, behavioral safety and HSE leadership.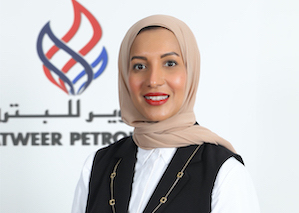 Ms. Hala Mufeez
Manager- Finance
Hala Mufeez has over 25 years of technical experience in Oil and Gas accounting, Financial Management and Controls, Compliance, and Public Accounting.
Prior to joining Tatweer petroleum in 2010, Hala occupied various positions in Audit, Finance, and Risk management at Ernst and Young, Bank of Bahrain and Kuwait, and Bahrain Islamic Bank.
She is a Certified Public Accountant (CPA) and holds a Bachelor's degree in Accounting from the University of Bahrain.
Hala was appointed Manager of the Finance Department at Tatweer Petroleum in 2015.