To the Stakeholders of Tatweer Petroleum Company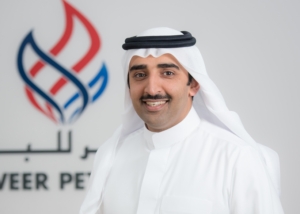 Sh. Mohamed bin Khalifa Al Khalifa
Chairman of the Board of Directors

In 2016, Tatweer witnessed two major challenges; the withdrawal of partners, Occidental Petroleum and Mubadala Petroleum, on the1st of July 2016, and persistently low oil prices. While the former was well managed by NOGA and Tatweer teams to ensure a smooth transition to a 100% government owned entity, the latter provided a more serious challenge in terms of maintaining production levels with a smaller workforce and less investment in a low oil price environment. Tatweer's risk management team identified 4 transition risks that were assessed and mitigated, the most serious being replacement of Tatweer's current procurement and tendering procedures with those of the Bahrain Tender Board. This was managed through proactive training of Tatweer staff in efforts to maintain the performance-driven culture that was developed and nurtured for the past 6 years.
In spite of the low oil prices in 2016, Tatweer drilled 38 new oil wells by year end. This helped maintain an average oil and condensate production of 48,500 barrels per day (including black oil production of 44,400 barrels per day) despite a 4-month freeze on drilling for cost saving purposes. Production capacity of non-associated gas was successfully maintained at 2.1 billion cubic feet per day, meeting the Kingdom of Bahrain's average and peak demands for energy.
In light of the drastic drop in oil prices, Tatweer turned to cost cutting activities that helped maintain production levels. Over 150 initiatives were implemented that resulted in savings of $4.6MM in 2016. Furthermore, Tatweer formed an oil production improvement team that developed over 20 ideas to assist in arresting production decline.  In parallel, Tatweer renegotiated existing contracts with the top 50 contractors resulting in savings of $10.2MM in contracts value.
Tatweer's steam pilots, the Mauddud Light Oil Steamflood and Rubble Forced Imbibition, remain functional and under monitoring for a final resolution on the way forward. Tatweer has also begun meeting with experienced service companies to explore potential joint collaboration models to tackle certain challenges in the Bahrain Field such as heavy oil and tight reservoirs.
Even with this high level of activity, Tatweer Petroleum was able to achieve an employee Injury and Illness Rate (IIR) of 0, which is the lowest in the six year history of the Company. Unfortunately, the contractors' IIR increased to 0.24 which resulted in a combined IIR of 0.19.
I am delighted to report that Tatweer's Bahrainization rate has reached 79% in 2016. I am also proud to state that by year end, Bahraini nationals occupy 67% of the company's leadership positions. This success is a result of the continuous training and development of Bahraini nationals to occupy leadership positions.
Throughout 2016, Tatweer Petroleum continued to receive the full support and encouragement of His Majesty King Hamad bin Isa Al Khalifa, HRH the Prime Minister Prince Khalifa bin Salman Al Khalifa, and HRH the Crown Prince and Deputy Supreme Commander Prince Salman bin Hamad Al Khalifa, to whom the Board expresses its sincere appreciation. On behalf of my fellow directors, I would like to thank the management and staff of Tatweer for their dedication, enthusiasm and hard work during another successful year.
Mohamed bin Khalifa Al Khalifa
Minister of Oil, Chairman of the Board of Directors