To the Stakeholders of Tatweer Petroleum Company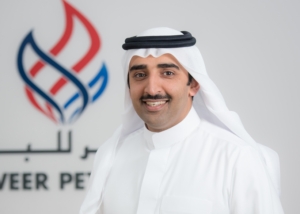 Sh. Mohamed bin Khalifa Al Khalifa
Chairman of the Board of Directors

Tatweer Petroleum endeavored to maintain oil and gas production levels throughout 2018.
Efforts in this direction are now significantly more optimistic with the discovery of the Khalij Al-Bahrain Basin, our large scale offshore shale formation, which is the biggest discovery since 1932 with over 80 billion barrels of tight oil in place. In addition, the discovery of 10 to 20 trillion cubic feet of natural gas in the Pre-Unayzah reservoir is a welcomed development which aims to meet the increasing gas demands of the Kingdom of Bahrain.
In relation to the Bahrain Field, Tatweer Petroleum has maintained a steady production rate through the drilling of an additional 69 new wells, targeting the Ahmadi, Mauddud, and Kharaib reservoirs, resulting in a total number of 1,021 new wells drilled since Tatweer Petroleum took stewardship of the Bahrain Field operations in 2009. Total oil and condensate production averaged 42,100 barrels per day, declining from 2017 production average of 44,200 barrels per day by 2,100 barrels per day. This decline in production was mainly due to the decline of drilling new wells in 2017, as well as the planned and unplanned facility shutdowns. The production capacity of Non-Associated Gas (NAG) was successfully maintained at 1.4 billion cubic feet per day, meeting the Kingdom of Bahrain's average and peak demands for energy.
Tatweer Petroleum continued further technical assessment and development in each reservoir. In the Ostracod/Magwa reservoirs, 37 wells were completed with high pressure high rate acid fracturing, adding 600 BOPD incremental oil gain. The Rubble Thermal Pilot Phase-6 project was expanded with the commissioning of 10 wells, injecting its first steam. Crestal gas injection continued in the Ahmadi reservoir, adding an incremental 100 BOPD, flattening the reserve decline. The commissioning of Zero Operating Pressure skids (ZeroP) at Tank Batteries 01 and 02 achieved a total gain of 700 BOPD. In relation to gas operations, the new 500 MMSCFD Central Gas Dehydration Facility (CGDF) was finally commissioned.
I am delighted to report that Tatweer Petroleum's Bahrainization rate has exceeded 83% in 2018. This achievement represents yet another contribution by Tatweer Petroleum to the economic growth opportunities for the Kingdom of Bahrain and its people.
Throughout 2018, Tatweer Petroleum continued to receive full support of His Majesty King Hamad bin Isa Al Khalifa, HRH the Prime Minister Prince Khalifa bin Salman Al Khalifa, and HRH the Crown Prince, Deputy Supreme Commander and First Deputy Premier, Prince Salman bin Hamad Al Khalifa to whom the Board expresses its sincere appreciation.
On behalf of my fellow directors, I would like to thank the management and staff of Tatweer Petroleum for their dedication, enthusiasm and hard work during the year.
Mohamed bin Khalifa Al Khalifa
Minister of Oil, Chairman of the Board of Directors