To the Stakeholders of Tatweer Petroleum Company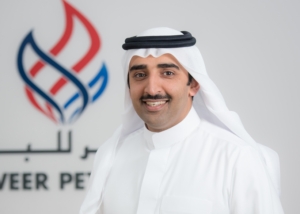 Sh. Mohamed bin Khalifa Al Khalifa
Chairman of the Board of Directors

2017 proved to be another challenging year for Tatweer Petroleum, mainly due to persistently low global oil prices.
Despite the low oil prices, Tatweer endeavored to maintain production levels through the drilling of a further 66 new wells, targeting the Ahmadi, Mauddud, and Kharaib reservoirs, resulting in a total number of 949 new wells drilled since Tatweer Petroleum took over the Bahrain Field operations in 2009. Total oil and condensate production averaged 44,200 barrels per day, declining from 2016 production average of 48,500 barrels per day. This decline in production was mainly due to the steep drop of drilled wells in 2016, as well as planned and unplanned facility shutdowns. The production capacity of Non-Associated Gas was successfully maintained at 1.4 billion cubic feet per day, meeting the Kingdom of Bahrain's average and peak demands for energy.
Tatweer's steam pilots, the Mauddud Light Oil Steamflood (LOSF) and Rubble Forced Imbibition, remain functional and under monitoring for a final resolution on the way forward. Tatweer met with experienced service companies to explore potential joint collaboration models to tackle certain challenges in the Bahrain Field, such as heavy oil and tight reservoirs and is in the process of reviewing these models. Tatweer also continued further technical and assessment work with ongoing Rubble and Shallow Gas injection pilot projects.
A cost saving initiative was kicked off at Tatweer Petroleum in 2016 with a plan to engage all employees to maximize Company savings.  Following its success for that year, the Company continued the initiative in 2017 with total identified savings equivalent to approximately 1,500 BOPD, taking into account the average oil price for that year.
I am delighted to report that Tatweer's Bahrainization rate has reached 80% in 2017 which includes the transfer of secondees from the Bahrain Petroleum Company B.S.C. (c) Petroleum Engineering & Exploration Division (PETEX) effective as of 1 July 2017. This achievement represents yet another contribution by Tatweer Petroleum to the economic growth opportunities for the Kingdom of Bahrain and its people.
Throughout 2017, Tatweer Petroleum continued to receive full support of His Majesty King Hamad bin Isa Al Khalifa, HRH the Prime Minister Prince Khalifa bin Salman Al Khalifa, and HRH the Crown Prince, Deputy Supreme Commander and First Deputy Premier, Prince Salman bin Hamad Al Khalifa to whom the Board expresses its sincere appreciation.
On behalf of my fellow directors, I would like to thank the management and staff of Tatweer for their dedication, enthusiasm and hard work during the year.
Mohamed bin Khalifa Al Khalifa
Minister of Oil, Chairman of the Board of Directors