To the Stakeholders of Tatweer Petroleum Company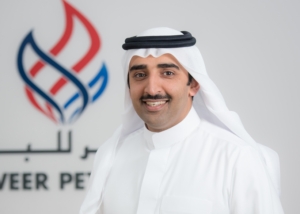 Sh. Mohamed bin Khalifa Al Khalifa
Chairman of the Board of Directors

Tatweer's operations in the Bahrain Field have continued to increase at a steady pace this year. Tatweer has been able to continue to grow production with the drilling of 62 new wells, bringing the total count of new wells drilled since Tatweer took over operations to 845 and increasing the overall well count to 1730
The Rubble steam pilot project included drilling horizontal wells and adding 7 thousand barrels per day of steam capacity to test a new injection method to improve oil recovery, yielding positive indication of the future production potential. Tatweer's second steam pilot, that aims to recover light oil from the Mauddud gas cap, also showed promising technical results by coring a new well and demonstrating increased recovery from this novel process.  Tatweer is continuing waterflood pilots in 6 reservoirs:  Ostracod, Magwa, Ahmadi, Mauddud, Nahr Umr and Kharaib.   Five new pilots were also started – 3 gas injection (in Ahmadi and 2 in Mauddud), steam injection into Aruma, and a Mauddud high volume lift trial.
Tatweer produced 46,200 barrels per day (bpd) exceeding last year's record in black oil production of 44,400 bpd, with total oil and condensate averaging 50,600 bpd, levels not seen since almost 40 years ago.  Production capacity of non-associated gas exceeded targets, averaging 2.2 billion cubic feet per day and met the Kingdom's demand.
I am delighted to report Tatweer's Bahrainization is 3% higher than 2014.  Its headcount is now almost 733 staff, of which 75% are Bahraini nationals.  This success represents yet another contribution by Tatweer to the economic growth opportunities for the Kingdom of Bahrain and its people.
Throughout 2015, Tatweer continued to receive the full support and encouragement of His Majesty King Hamad bin Isa Al Khalifa, HRH the Prime Minister Prince Khalifa bin Salman Al Khalifa, and HRH the Crown Prince and Deputy Supreme Commander Prince Salman bin Hamad Al Khalifa, to whom the Board expresses its sincere appreciation.  On behalf of my fellow directors, I would like to thank the management and staff of Tatweer for their dedication, enthusiasm and hard work during another successful 2015 and we look forward to an even more successful year ahead.
Mohamed bin Khalifa Al Khalifa
Minister of Oil, Chairman of the Board of Directors