To the Stakeholders of Tatweer Petroleum Company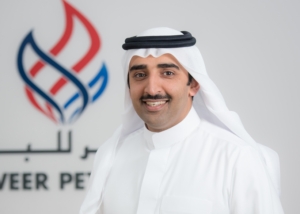 Sh. Mohamed bin Khalifa Al Khalifa
Chairman of the Board of Directors
In 2019, Tatweer Petroleum continued its strong performance with production improvements  mainly due to the drilling of 3 new Khuff gas wells and 110 new oil wells, targeting the Rubble, Ostracod, Magwa, Ahmadi, Mauddud and Kharaib reservoirs, bringing the total number of new wells drilled since Tatweer's inception to 1,137, including 10 Khuff gas wells.
Crude and condensate production averaged at 42,400 BOPD, which is an increase of 300 bpd in comparison to 2018 and the black oil rate averaged at 38,100 BOPD for the year. The production capacity of Non-Associated Gas (NAG) averaged at 1.7 billion cubic feet per day, meeting the Kingdom of Bahrain's average and peak demands for energy.
Following the announcement of Khalij Al Bahrain Basin (KAB) discovery in early 2018, the first onshore appraisal well was drilled on Umm Al Naasan Island in December of the same year, and production tests began in July 2019. The well is currently being tested and the data collected is under evaluation. 
The 2019 combined Total Recordable Injury Rate (TRIR) for Tatweer Petroleum was 0.19, which represents a vast improvement from last year's rate of 0.29. The Company's Health, Safety and Environment Department is continuously working to minimize this rate and will ensure maximum efforts are continued to be exerted towards safety awareness in the coming year.
I am delighted to report that Tatweer Petroleum's Bahrainization rate has exceeded 84% in 2019. This achievement represents yet another contribution by Tatweer Petroleum to the economic growth opportunities for the Kingdom of Bahrain and its people.
Tatweer Petroleum won the Drone Excellence Award at the 2019 Drone Synergies Conference and the Excellence in GIS Implementation Award (EGI), for the Company's innovative utilization of drone technology and Geospatial Information Systems (GIS) in their operations. Such milestones are paving the way for digitization and the future of the oil and gas industry.
Throughout the year, Tatweer Petroleum continued to receive the full support of His Majesty King Hamad bin Isa Al Khalifa, HRH the Prime Minister Prince Khalifa bin Salman Al Khalifa, and HRH the Crown Prince, Deputy Supreme Commander and First Deputy Premier, Prince Salman bin Hamad Al Khalifa to whom the Board expresses its sincere appreciation.
On behalf of my fellow directors, I would like to thank the management and staff of Tatweer Petroleum for their dedication, enthusiasm and hard work during the year.
Mohamed bin Khalifa Al Khalifa
Minister of Oil, Chairman of the Board of Directors