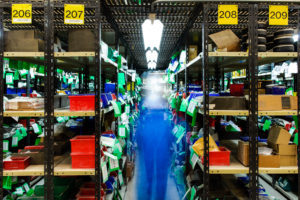 During 2016, Supply Chain Management (SCM) continued to identify and achieve reductions across key contracts. These efforts supported the overall savings made by the Company throughout the year.
In July, 2016 Tatweer Petroleum became 100% government owned. SCM supported this transition with the preparation and execution of procedures necessary to comply with Bahrain Tender Board Law.
During 2016, SCM processed 1,312 commitments amounting to BD90 million.
63% of all Contracts and Purchases were awarded to Bahraini companies, which is approximately 20% of this committed spend. Excluding services that can only be provided by companies outside of Bahrain, the value of normalized awards to Bahraini companies is 83%.
At the end of 2016, the SCM Warehouse completed 583,703 man-hours without LTI / LTA.
Key Facts
Contracts and Purchases awarded to Bahraini companies
Commitments processed in 2016
Man-hours completed without LTI / LTA by SCM Warehouse